Factory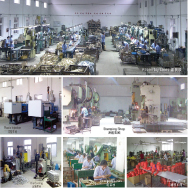 Assembly Lines, Plastic injection, Stamping Shop, Die Casting, Sewing Shop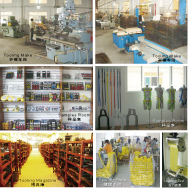 Tooling Make, Samples Room, Tooling Magazine, Sewing Shop, Loading Test
Shanghai Pan Glory Industry Co., Ltd
Shanghai Pan Glory Industry Co.,Ltd. was invested by Pan Guide Group (found 1984) and established the factory inShanghai,Chinasince 2002. For almost 30 years Pan Guide Group devotes the manufacturing in the industry of material handling products, cargo restrains products, cargo tie down straps, lifting slings, truck and trailer products, safety belts and hardware for fallen arrest and motorsport, etc....
Pan Glory has continually invested in better technology and highly skilled professionals. A strong lineup of machines invested such as stamping machines, sewing machines, zinc & aluminum die casting machines, plastic injection molding machines, CNC tooling make machines, testing laboratory and 3 assembling lines. We also equipped with a professional and experienced staffs for our R+D and QC teams that support us to make a high quality and a mass production. The combination of these assets has made us a leadership in our industry.
Quality, Efficiently, Reliable, Consistently & Innovation are our commitments to our customers. Our professional sales representatives work hard to exceed our customers needs. Understanding and responding to our customers needs in a quality-driven manner is one of our greatest strengths. Currently our products are successfully selling to North America, Europe,Russia, Eastern Europe, Latin America,Japan, Middle East andNorth Africamarket.
We are also associated with our sister company Shanghai King Tech Co., Ltd. and Taiwan Toptech Products Corp. as Pan Guide Group or PG Group to offer our service for you efficiently .
Any new product or design are welcome to custom make for you. Contact Pan Glory for more information, our experienced staffs will reply your needs quickly.
 Looking forward to serving you soon!
 Wilson  Liang
CEO Of PG Group
Detail
Location: Shanghai China
Built in: 2002
Staff Details:

Production : 5 Plants Chief & Supervisors are all college degrees. All in good at planning & production.

Q.C.: 4 qualified staffs all in good at operating Salty Spray Plating Test Machines: Hardeness Testing Machines: Tensile Test Machines 3D Testing machines: etc.....

R&D: 5 staffs are BA degree, and in good at Auto-CAD, Drawing & Designing, 3D Design

Others: HR Dept., Accounting Dept, Warehouse Dept., Tooling Dept. Sewing Dept.

Safety/Quality Approval(s): ISO 9001:2015
Equipment:

Progressive stamping
Die Casting machines
Sewing Machines
3 Assembling lines

Product Lines:

Slings & Tie down Straps
Truck & Trailer Products
Hardware For Motorsport Harnesses
Fall Protection Products